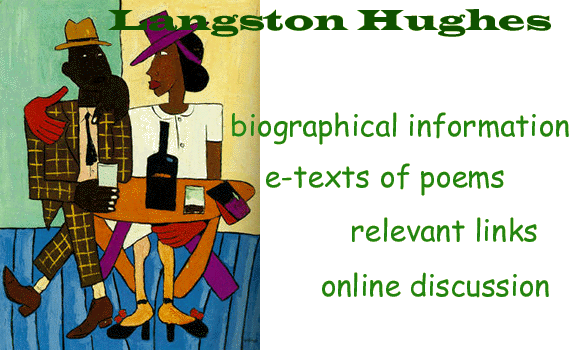 ---

Click on each picture for a large version and its source.
biographical information


1. Fact sheet with information about Hughes' life

2. Brief biography of Hughes with e-texts of some
poems that we are not reading

3. Biography

4. A detailed biography of Langston Hughes and
his relationship with the Harlem Renaissance,
from the Smithsonion Institute

5. A very good bibliography of primary and
secondary materials about Hughes
back

---
e-texts of essays and poems
1. "The Negro Artist and the Racial Mountain"
2. "The Negro Speaks of Rivers"

--some questions for discussion


--brief analysis of the poem


--interpretation of the poem


--Another interpretation of the poem

3. "The South"
5. "When Sue Wears Red" and other Hughes' poems
6. "Jazzonia" together with cover of the dust jacket for Hughes' first book The Weary Blues:
--analysis of the poem

8. "Mulatto"
--brief student response

9. "Spirituals"
12. "Dream Boogie"
13. "Harlem [2]"
--See our English Literature Databank


--video clip of the poem


--student essay about the poem

back

---
Langston Hughes was one of the writers and artists who helped to revitalize African-American art
and literature in the 1920s. That group of artists and writers promoted the resurgence of interest
and enthusiasm for African-American art in what is now called the Harlem Renaissance.


1. For a good introduction to the Harlem Renaissance.
(This site also features links to various writers from the Harlem
Renaissance and a link which lets you listen to some music from that
period. That music might help you understand the poem "Jazzonia.")

2. General introduction to some poets of the Harlem Renaissance

3. The e-text and an introduction to a 1925 issue of a journal called
Survey Graphic that focussed on the Harlem Renaissance

4. An online exhibition about the community of Harlem from
1900 to 1940

5. Another good site introducing the artists and writers of the
Harlem Renaissance


"Street Life -- Harlem" (ca. 1939-40)
by William H. Johnson, from William H. Johnson's Gallery
back

---
1. An interesting statement by a student explaining why Langston Hughes is his favorite poet

2. online student responses to several of the poems we are reading, including "The Negro Speaks of Rivers"
and "Harlem"

3. A review of The Collected Poems of Langston Hughes that discusses important issues and
themes in Hughes' poetry

4. link to The Langston Hughes Review

5. online audio recording of four stories by Hughes about the character Simple


back

***The background picture is "Lenox Avenue" by Sargent Johnson. It is taken from Harlem Renaissance Art.

---