---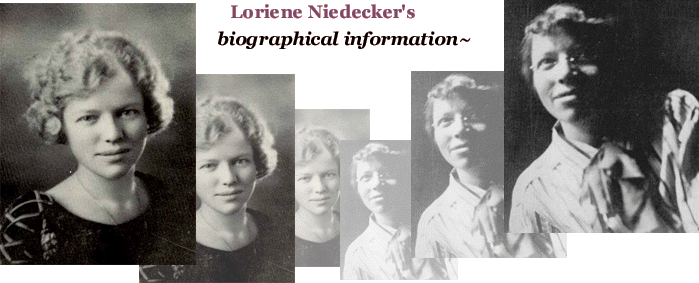 ***The left photo is from Lorine Niedecker: Woman and Poet, edited by Jenny Penberthy (Orono, Maine: National Poetry Foundation, 1996).
***The right photo is from Niedecker and the Correspondence with Zukofsky 1931-1970, edited by Jenny Penberthy ( Cambridge:
Cambridge UP, 1993).

1. Brief online biography

2. The biography taken from Oxford Companion to 20th-Century Poetry

---

relevant links
1. List of books by Niedecker

2. Site with a good introduction to her poetry, an analysis of a poem, and a bibliography

back

---

e-texts of poems
1. "There's a better shine"
---An essay which explicates this poem is written by Brett Axel.

3. "In the great snowfall before the bomb"
6. "Some float off on chocolate bars"
7. "Remember my little granite pail"
8. "Sorrow moves in wide waves"
10. "He lived¡XChildhood summers"
11. "What a woman!¡Xhooks men like rugs"
13. e-texts of some other poems by Niedecker

14. A brief poem by Allen Ginsberg for Lorine Niedecker

For L.N.

Allen Ginsberg

as her breath was
now her body,

lonely poet
far from cities

one in the world.
***This poem is from Epitaphs for Lorine, edited by Jonathan Williams (Penland, NC: Jargon Society, 1973).
back

---

online discussions
1. Online essay called "Notes on Reading Lorine Niedecker"

back

---