Homi Bhabha
Mimicry; Hybridity; Third Space; Postcolonial Culture

LAURA JAMES, Black Girl With Wings Larger size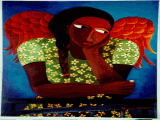 Mimicry
"Of Mimicry and Man" from The Location of Culture. NY: Routledge, 1994. p. 86

Mimicry is, then, the sign of a double articulation; a complex strategy of reform, regulation and discipline, which "appropriates' the Other as it visualizes power. Mimicry is also the sign of the inappropriate, however, a difference or recalcitrance which coheres the dominant strategic function of colonial power, intensifies surveillance, and poses an immanent threat to both 'normalized' knowledges and disciplinary powers.


It is from this area between mimicry and mockery, where the reforming, civilizing mission is threatened by the displacing gaze of its disciplinary double, . . .


mimicry is at once resemblance and menace.


p. 88 The menace of mimicry is its double vision which in disclosing the ambivalence of colonial discourse also disrupts its authority. And it is a double vision that is a result of what I've described as the partial representation/recognition of the colonial object.

Hybridity
"Signs Taken for Wonder" from The Location of Culture. NY: Routledge, 1994.
". . . the colonial presence is always ambivalent, split between its presence as original and authoritative and its articulation as repetition and difference" (107).
"Hybridity is a problematic of colonial representation and individuation that reverses the effects of the colonialist disawal, so that other 'denied' knowledges enter upon the dominant discourse and estrange the basis of its authority -- its rule of recognition" (114). . . . "This partializing process of hybridity is best described as a metonymy of presence" (115)
"Colonial doubling. . .a strategic displacement of value through a process of metonymy of presence. It is through this partial process, represented in its enigmatic, inappropriate signifiers --stereotypes, jokes, multiple and contradictory belief, the 'native' Bible-- that we begin to get a sense of a specific space of cultural colonial discourse. It is a separate space, a space of separation -- less than one and double -- which has been systematically denied by both colonialists and nationalists who have sought authority in the authenticity of 'origins' (120).

The Third Space

"The intervention of the Third Space of enunciation, which makes the structure of meaning and reference an ambivalent process, destroys this mirror of representation in which cultural knowledge is customarily revealed as integrated, open, expanding code. Such an intervention quite properly challenges our sense of the historical identity of culture as homogenizing, unifying force, authenticated by originary Past, kept alive in the national tradition of the People" (37).
"The non-synchronous temporality of global and national cultures opens up a cultural space -- a third space--where the negotiation of incommensurable differences creates a tension peculiar to borderline existences. . . Hybrid hyphenisations emphasize the incommensurable elements as the basis of cultural identities" (218)


on Transnational/Tranlational Culture
from Greenblatt and Gun's Redrawing the Boundaries,
Culture as a strategy of survival is both transnational and translational. It is transnational because contemporary postcolonial discourses are rooted in specific histories of cultural displacement, whether they are the middle passage of slaver and indenture, the voyage out of the civilizing mission, the fraught accommodation of Third World migration to the West after the Second World War, or the traffic of economic and political refugees within and outside the Third World. Culture is translational because such spatial histories of displacement -- now accompanied by the territorial ambitions of global media technologies -- make the question of how culture signifies, or what is signified by culture , a rather complex issue. It becomes crucial to distinguish between the semblance and similitude of the symbols across diverse cultural experiences -- literature, art, music, ritual, life, death -- and the social specificity of each of these productions of meaning as they circulate as signs within specific contextual locations and social systems of value. The transnational dimension of cultural transformation -- migration, diaspora, displacement, relocation -- makes the process of cultural translation a complex form of signification. the natural(ized), unifying discourse of nation , peoples , or authentic folk tradition, those embedded myths of cultures particularity, cannot be readily referenced. The great, though unsettling, advantage of this position is that it makes you increasingly aware of the construction of culture and the invention of tradition.
Bhabha on Multiculturalism, cultural diversity and cultural difference

from Identity: Community, Culture, Difference. Ed. Jonathan Rutherford. London: Lawrence & Wishart, 1990.

a creation of cultural diversity and a containment of cultural difference p. 208
...we really do need the notion of a politics which is based on unequal, uneven, multiple and potentially antagonist, political identities. ...whatis at issue is a historical moment in whihc these multiple identites do actually articulate in challenging ways, either positively or negatively, either in progressive or regressive ways, often conflictually, sometimes even incommensurably

Multiculturalism represented an attempt both to respond to and to control the dynamic process of the articulation of cultural difference, administering a consensus based on a norm that propagates cultural diversity.

...p. 209 This kind of liberal relativist perspective is inadequate in itself and doesn't generally recognise the universalist and normative stance from which it constructs its cultural and political judgements.

p. 210 the act of signification ...must always ...have within them a kind of self-alienating limit. Meaning is constructed across the bar of difference and separation between the signifier and the signified. So it follows that no culture is full unto itself, no culture is plainly ...not only because there are other cultures which contradict its authority, but also because its own symbol-forming activity, ...always underscores the claim to an originary, holistic, organic identity.

By translation I first of all mean a process by which, in order to objectify cultural meaning, there always has to be a process of alienation and of secondariness in relation to itself.

..translation is also a way of imitating...