Contemporary Candian Film and Literature (Fall, 1999)

Cosmos (1997)
(directed by Jennifer Alleyn, Manon Briand, Marie-Julie Dallaire,
Arto Paragamian, Andre Turpin, Denis Villeneuve)

Six Episodes . . . General Themes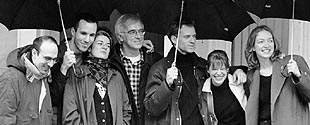 source: http://www.telefilm.gc.ca/en/prod/film/film97/10.htm
Arto Paragamian, Denis Villeneuve, Manon Briand, Roger Frappier (producer), Andre Turpin,
Marie-Julie Dallaire, Jennifer Alleyn
Boost
Yanni, Joel
(directed by Manon Briand) --a girl [Yanni] tries to cheer up a gay man [Joel] who might or might not have AIDS.

Cosmos: match the positive with positive, negative with negative.
Why is the car so important for both of the friends? What does the ending (that the car dies again) mean?

The Technetium
Morille, Tekno,
the hostess
(written and directed by Denis Villeneuve) -- Morille [a nervous filmmaker; called Maurice in the studio] and his film

-- How he describes his film, and how Cosmos does it.
-- How is the studio presented (Media TV, introducing the band "Cyberdogs" and haircut, with the hostess constantly dancing and camera constantly shifting angles. Is this a parody of MTV channel, or techno culture?)
-- humor: repetition of the idea of hostage and hair-cutting

Jules and Fanny
(directed by Andre Turpin)-- a lawyer whose new breasts and her ex-boyfriend [Jules] who wants to see

-- Jules, is he a hypocrite? The question of ethics and male voyeurism.
-- What do you think about his concern with "the death of the matter" and his criticism of technology?

L'individul
(The Individual; directed by Marie-Julie Dallaire, who co-wrote the script with Sebastien Joannette)

Credit:Film Society of Lincoln Center from NY Times Reviews Sebastien Joannette in ``The Individual,'' which he helped write.

-- How does the film shows a sense of suspense or lurking danger? Through the setting, camera, and what else?
-- When does this individual start to look suspicious?

Aurore and Crepuscule

picture: from the E Files

(Dawn and Dusk?directed by Jennifer Alleyn) -- Dawn [a birthday girl who got stood up]

-- What makes the two, with such an age difference, charmed by each other?
-- How does Dawn look at her generation (its speed and competitiveness)? What is she waiting for?
-- How does Dusk look at marriage (as association)?

Cosmos and Agriculture
Cosmos, Janvier
(directed by Arto Paragamian) -- Cosmos [Greek-Canadian taxicab driver]

-- What do you think about the final chase? Is it a failure as some reviewer thinks?
-- Why is Cosmos so important to the film? Is he a kind of philosopher?
-- How do you characterize Janvier and Cosmos as two taxi-drivers?
chance meetings and coincidences in the city
brief moments and open endings -- We don't know what Morille's film is about, what happens to the serial killer, nor if Joel does have HIV positive. We don't know if Cosmos will be able to work as a taxi-driver again, nor is there any sense of conclusiveness to the stories about Dawn and Dusk, or Jules and Fanny. What do you make of these glimpses of life?
the past and the future 2000-- How do the characters look at their past? How do Jules, Cosmos and his friend (Janvier) look at contemporary society and the millenium? Do all human problems really start with agriculture?
the urban settings of hotel, subway, apartment building, roads, suburban wilderness,
Film Reviews: