State of Texas: government information. All About Texas for Texans, Future Texans, and Visitors.



The twin city (Bryan & College Station), where A&M is located.

Texas Parks and Wildlife

Libraries and Museums

United States:
Introductions to its cities, history, cultures, etc.
(From World Guide.)

U.S. Department of Education
About the U.S. educational system. Also with education headlines (e.g. about the emphasis on technology uses in schools and goal 2000).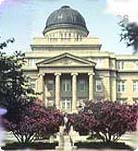 Images taken from