for Analysis and Conversation

Conversation Topics on social changes:
What aspects of the film can you relate to? (e.g. parent-children relationships, junior high school days, video game parlor, entrance exams, puppy love, country vs. city, flood, radio, fantasies and dreams.)
Do you view and experience the entrance similarly or differently?
Where did you frequent as a teenager? What were your hobbies and do you have a dream lover or idol?
What do you feel about this film after the kidnapping case of 白曉燕 happened?

Text-Analysis Questions:
Components of a narrative film --
Are there evil characters in this film? How are the kidnappers presented (including A-ching 阿慶's family members)? How about the policemen? Is A-chiang's friend likely to be a rapist?
How does the teacher push her students to study hard? How about A-chiang's parents?
How do the teenage characters express their dreams and maintain their self-esteem, if they don't get it confirmed in the exams, by their parents or teachers? Pay close attention to A-chiang's dream and his friend's behavior.
How are the two major settings, Taipei and Dong-she (東石), set in contrast to each other? What does A-ching come to Taipei for?
Sound track:
When do we start to hear music in this film?
Plot and Pattern:
The film basically develops chronologically away from Taipei and then back to it, starting and ending with a radio program. There are some repetitions or sets of contrasts which are worth discussing﹒What are they?
recurrent motifs: fantasies and dreams; childish games; news broadcast and faddism
What are the functions in this film of A-chiang's story of 沙羅曼天王, who works with 金鯊天王 to rescue the mermaid? And his story of a fish which will fly after he eats up 999 dreams of children? His telling 道南 that half of him is electronic?
阿慶 takes the kids to the beach twice. And there they had some interesting performances of playing to be fish and making sand-dung. What do you think these episodes mean?
How do the TV news anchoress change through the film? And the images shown on TV of the law-makers, the people welcoming A-chiang, and those pursuing a star--what do they tell us about our society?
Major themes: entrance exam, teenage rebellion and personal dreams; country vs. city
How is A-juan 阿娟 a victim in this film? What are the limitations set on her and her brothers?
Why doesn't the film tell us whether A-chiang passes the exam or not? What points does the film try to make? To keep on having dreams?

導演:陳玉勳 (1962)-- also 愛情來了
演員:林正盛、林嘉宏、文英
得獎紀錄: * 第32屆金馬獎「最佳原著劇本獎」(陳玉勳)、「最佳女配角獎」(文 英) * 第48屆瑞士盧卡諾影展「藍豹獎」、「費比西獎」

角色: 劉志強、王道南、綁匪老大、阿慶和他的家人(弟弟、祖母、妹妹阿娟、阿姑、姑丈等)、老師、父母、記者、電視新聞播報員、阿強的夢中情人.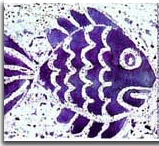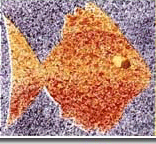 Tropical Fish 熱帶魚(1995)