CAI軟體是團隊合作的產物。以英語教學為例,多媒體科技誠然為英語教學開創新契機,然而有效的教學效果需有優良的教學軟體配合,且軟體的設計需整合多媒體科技、英語教學、與教學設計等多方面的人才方能達成。本計畫的目的即在提供英語系與資管系學生一個跨校、跨系、跨領域的合作機會,共同設計多媒體英語教學軟體。學生可藉此機會了解來自不同領域的看法,彼此切磋學習,期能提昇軟體設計的品質。

中華大學資管系
課名:Web Programming
By 張燕光老師

輔仁大學英語系
課名:電腦輔助教學
By 葉修文老師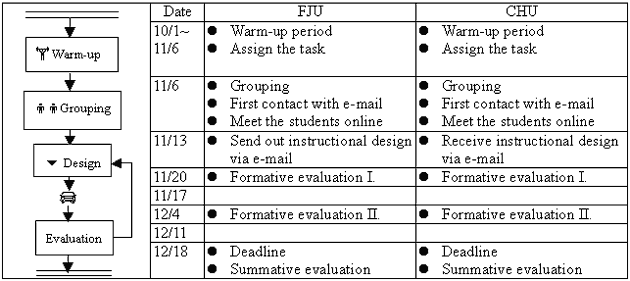 (From Chapter 7 of: Alessi, S.M. & Trollip, S.R. (1991). Computer-Based Instruction: Methods and Development, 2nd edition. Englewood Cliffs, New Jersey: Prentice-Hall.)


Activities
Explanations
Designer
1
Determine needs and goals

Determine what the student should know or be able to do after completing the lesson.

Fu-Jen
2
Collect resources

Relevant to subject matter, instructional development, and delivery system.
In this course they refer to things such as textbooks, reference books, original source materials, films, audio tapes, etc.

Fu-Jen
3
Learn the content

The designer must be very familiar with the content.
Ex. interviewing the expert, reading texts and other instructional materials. etc.

Fu-Jen
4
Generate ideas

Do brainstorming to generate creative ideas.

Fu-Jen
5
Design instruction

Performing concept and task analyses on the content.
Preliminary choices about instructional methodologies and factors.

Fu-Jen
6
Flowchart the lesson

Depicts the sequence and decisions of a lesson.
The visual representation of decisions and events is the best way to depict the interactions between computer & learners.

Fu-Jen
7
Storyboard displays on paper

Depicts the content and presentations.
The process of preparing textual and pictorial displays so they will fit within the display limitations of your computer.
Include information presentations, questions, feedback, directions, prompts, pictures, and animations.

Fu-Jen & CHU
8
Program the lesson

Translate what you have on paper into a series of instructions understandable to the computer.

CHU
9
Produce supporting materials
DFu-Jen & CHU
10
Evaluate and revise
Fu-Jen & CHU
FEATURES OF THE PROCEDURE
It is empirically based: based on a cycle of draft, evaluate, and revise until the product works.
It is driven by principles of cognitive psychology. (See chapter 1 for more information.)
It is an emphasis on creativity.
It is the progression from discussion to paper ideas to implementation on a computer.
It is a team-oriented approach. Courseware is always better when several people collavorate.
More skills and knowledge are involved in a development effort than one person tytpically has.
Several people working together raise the expected standard of acceptable quality.
An individual is not good at criticizing his/her own ideas or work.