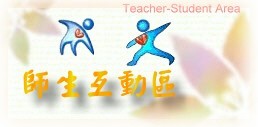 What's New, Pre-Registration, Teacher-Student Interactions, Resume, . . .



2008 New Functions
1. Log-in and Pre-Registration

for Students; ppt
2. S-T Area:

for Students;

for Teachers (including logon); ppt .
* The first page of each instruction provides an index for you to choose what you want to learn;
* Please press Pause (ll) if you want to read one page for a longer time.
Last updated 2008/10/22
English Department, Fu Jen