Equus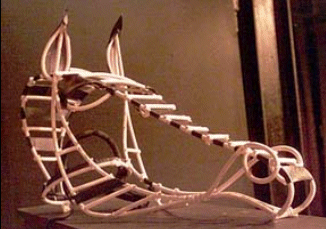 Theatrical Elements in the Play
Two Conflicting protagonists and Equus
Study Questions for Discussion
---
Theatrical Elements in the Play
1. environmental theatre: A form of theatre that emerged in the late 1960s. inheriting many ideas from the HAPPENING.
--The environmental theatre requires no text, and its main feature was a mingling of actors and spectators.
--All the space is used for performance; all the space is used for the audience: members of the audience were both 'scene-makers' and 'scene watchers', as by standers are part of the street scene they view.

2. symbolic use of masks and staging
The stage design given by Shaffer is quite novel, using a central raised platform, circular and revolving, together with two benches on either side and, in the background, a row of seats for the chorus representing the god Equus.

3. actors' work on stage
All the cast of Equus sits on stage the entire evening. They get up to perform their scenes, and return when they are done to their places around the set. They are witnesses, assistants, and especially a Chorus (13), which adopts one of the forms of ancient Greek Theater.

4. the horses:
The actors wear track-suits of chestnut velvet and light strutted hooves on their feet, about four inches high, set on metal horse shoes. On their hands are gloves of the same color. On their heads are tough masks made of alternating bands of silver wire and leather. The actors should never crouch or even bend forward. They must always stand upright . (15)

TEXT:
Shaffer, Peter. Equus. NY: Penguin, 1984.
---
17 year-old boy, Alan Strang, working in a stable, is brought to a psychiatric hospital because he has blinded several horses with a hoof pick. A psychiatrist, Dysart, works to "normalize" the boy with giving Alan crucial cures: the answer-in-turns game, tape recorder, the blank trick (hypnosis), and the placebo remedy. Though he makes the boy 'safe' for society, he is taking away him from his worship and sexual vitality--both of which are missing in the doctor's own personal life.
Dysart insights into Alan's problem with horses and his parents, who are a religious mother, Dora, and an atheistic father, Frank. Alan believes horses are gods and creates a religious ritual with a horse-god in his behavior (44-45).
Alan has a bizarre belief that horses, specifically harnessed horses with chains in their mouths, are both slaves and gods. Later, he bridles himself with invisible string and begins to beat himself, increasing the strokes in speed (50-51). Gradually, Alan reveals his secret of riding to Dysart and shows the strong identification of Jesus and horse that he has built u p in his mind (72-74). One day, Alan discovers Frank¡¦s secret while going to a skin flick with Jill, a stable girl. (92). Then he goes with Jill to the stable and make love with her. Meanwhile, Alan hears Equus says, ¡§I see you¡¨ & ¡§I will save you¡¨, but also hears him laughing after failing sexual encounter with Jill. (99-103) After Jill left the stable, Alan pleads for forgiveness from Equus. Later on, Alan tells Dysart about blinding the horses, he cries ¡§KILL ME¡KKILL ME!¡¨ (104-106)
---
1. Dora Strang--Alan's mother
"His mother has been the dominant provider of education throughout Alan's childhood."
(1) She is an ex-school teacher. (28)
(2) She is from a horsey family and religious people. (32)
(3) She provides what Alan wants and hopes that he is happy.
Example:
She lets Alan slip off to the neighbor to see the movies.
(4) She educates Alan with the way she knows.
Examples:
a) She told Alan about the Bible and horse story as Alan was a child (30, 31, 44, 48).
b) She taught Alan what sex is about. "That sex is not just a biological matter, but spiritual as well. That if God willed, he would fall in love one day¡K." (35)
(5) Finally, she attributes her son's act to ¡§the Devil¡¨ (78).

In an eloquent speech to Dysart, Dora attacks the tendency of conventional psychiatry to blame parents for their children¡¦s neuroses. She insists that Dysart recognizes that ¡§Alan is himself. Every soul is itself.
If you added up everything we ever did to him, from his first day on earth to this, you wouldn't find why he did this terrible thing --because that¡¦s him; not just all of our things add up¡¨ (78). It is this last possibility--that Alan¡¦s ¡§illness¡¨ is an intrinsic part of his selfhood --that throws Dysart¡¦s view of the world into confusion.

2. Frank Strang--Alan's father
The relationship between Alan and his father is practically nonexistent.¡¨
(1) He is an atheist. (34)
(2) He thinks their family has religious problems because Alan¡¦s mother tells Alan too many religious stories (34).
(3) He does not respect Alan and lacks communication with Alan.
Example:
a) Mr. Strang pulls Alan from the horseman's shoulder (41) and disregards how Alan feels.
b) He always says, ¡§If you receive my meaning.¡¨ He does not ask what Alan really thinks or/and wants.
c) He does not allow Alan to watch TV.
(4) He tears a picture of Christ from Alan¡¦s door (45).
(5) He causes Alan shame and lowers his self-esteem after he finds Alan in the cinema. (95-96).
* The parents' influence on Alan:
In his conflict with his overly conservative and religious mother and his atheistic father, Alan's love for horse develops into a fervor, a religious passion for the horses, especially Equus, as an all-powerful god.
(1) Alan's worship to Equus. (66-67)
Alan has the great passion for the holy horse.
(2) Alan is almost rejected by his father, so he does not contact with the outside world, the reality. (81)
*student feedback:
Alan's parents influence on Alan's behaviors and concepts a lot. Therefore, education is very important because education helps shape people's concepts and values toward life.
For example, in some beliefs, people consider that sacrificing one's life to achieve their religious great goal is the most valuable and sacred deeds. They teach their followers to sacrifice their lives for entering Heaven; however, they may not care about the
people's lives in the present world.

3. Alan Strang
- A 17-years-old boy who grew up with his two parents and their different beliefs and is influenced by his parents very much.
- Ordinary, even pathetic, in his lack of vocational or social success, Alan goes astray.
- Working in an electrical shop and picking up part-time work at a stable.
- Seeing a horse on the beach in his childhood, and since then Alan has an obsession with horses. (39-40)
> Beginning to worship horses (Equus is his God), through his job at the stable and the nighttime rituals Alan has with the horses.
- Perhaps Alan is innately programmed to be passionate about something, and his strict moral-by-formula has compelled him to twist what happens around him into a passion about horses.
- Or perhaps Alan merely falls in love with the horse's body, and with that the passion expands into abnormal means.
- Either way, Alan has learned to love and feel for all horses, and this passion toward Equus is so great that he feels extremely guilty when he makes love with Jill (104).
> Alan cuts out the six horses¡¦ eyes to prevent them from seeing the "sin" Alan has committed.
- The act that Alan makes love with Jill may represent Alan¡¦s growing up, becoming independent and autonomous.
- Alan has a capacity for worship and passion, just not within the normal boundaries of societies acceptable views. Alan has the capacity for pain, but reaches his climax when in the stable and blinds the six horses.
- In the case of Alan, he suffers from mental illness, but can be healed with love and passion from those around him; Dysart being the one to take the first step and not giving up on him. Worship is not a human need, but the freedom of worship is a human right.
4. Martin Dysart
- Martin is the central character of the play, as he is telling the audience of the events that previously happened to him.
- He is a middle-aged psychiatrist, married, but without children; successful in treating children with psychological disorders.
- Bad relationship with his wife, Margaret (61). He has no sex with his wife (83).
- He represents normal society. Tries to impose society¡¦s definition of Normal on the patient.
- His dream symbolizes the conflict between himself as a doctor and his inner self, and at the same time foreshadows his change of mind at the end of the play (24).
- He acts as a foil to Alan.
- Dysart lacks passion in his life; Alan, however, has basically too much passion. (Page 82)
- He finds himself envying Alan¡¦s passion obsessions and worship.
- He is a normal doctor. Alan is abnormal patient.
- Searching for the meaning of Alan¡¦s act leads him to doubt his own vocation and integrity. He begins to question about normality and abnormality. (Page 62, 82)
- At the end, he implies that turning Alan into what society says is normal will, in some way, destroys Alan to make him ¡§a ghost¡¨ (page 107,108)
- Therapy used:
1. Tape recorder (43)
2. Hypnosis (64)
3. Drug (86)
Comparison and Contrast between Hesther Salomon and Margaret Dysart
Hesther¡X with strong instinct (vibration), she knows Alan Strang needs help and Martin Dysart is the one to help. Her last name ¡§Salomon¡¨ suggests that she is ¡§wise¡¨ with instinct.
Margaret¡X with strong reason and intellect, she as a dentist plays a role of a well-educated, capable, efficient, brisk woman. However, she is losing her ¡§instinct¡¨ part and becomes ¡§limited.¡¨
---
> People are limited (boxed) by time and space
>¡§Chain in mouth¡¨ ¡Vself-control, self-restraint required by education and society
> Alan frequently refers to the chains on the horses' mouths'. He feels compassion for the horses because they are locked in by the chains.
> At his closing monologue, Dysart says "There is now, in my mouth, this sharp chain. And it never comes out."
> This chain throughout the story symbolizes the pain Alan sees the horses suffer through, the pain Alan suffers, and the pain > >> Dysart is suffering at the end of the novel.
---
¡§Equus¡¨ comes from the Latin word for horse.
It conveys so many questions about society today and what of the truths are in life.
It's full of complex themes and issues briefly touched on but unrestricted in its presentation.
Shaffer reveals the psychological principles and the philosophical aspects.
¡§I had to create a mental world in which the deed could be made comprehensible¡¨ (9).
If man is materialistic it is because the opportunity presents itself and we are already that way. There is no spiritual or mental decay of modern man. Religion flourishes as it always has, and causes peace and war as it always will. We know more now than we ever did in the past about medicine, science, the arts, humanity, the origin of man, and life itself.
---
Two Conflicting protagonists and Equus
-- Two conflicting protagonists ¡VAlan Strang & Martin Dysart: Alan is the nominal center, yet Dysart¡¦s spiritual anguish is even greater.
-- Three part puzzle at the play¡¦s outset: ¡§I keep thinking about the horse¡¨ (17). ¡§In a way, it has nothing to do with this boy. The doubts have been there for years¡¨ (18) said Martin Dysart.
-- The interlocked lives of these three figures¡Xthe ailing boy, the purportedly healing psychiatrist, and the mysterious horse-deity.
---
1. Passion vs. Reason

--Alan does not have good education (81).
--Alan's behavior is thought abnormal and not fit the society.
--Alan has imagination and passion.
--Dysart doubts his own vocation and integrity.
--Dysart comes to an understanding of Alan¡¦s motives, but feels confused. ¡§You see, I am lost¡K ¡K subversive¡¨(18, L. 3)
--Education makes Dysart a reasonable man, but not help him to keep his passion (18).

2. Family impact
Children can so easily twist around innocent teaching to fit their own innate needs.
Seemingly, Alan could have been a normal child.
Alan's imagination of the horses as gods is link to his mother¡¦s story about Prince (30), the story of Bible (31), the idea of sex willed by God (35).
Alan's father makes no efforts to do anything about the fanatical indoctrination.
Alan's parents acknowledge their inability to comprehend their son and his crime.
Mrs. Strang finally attributes her son's act to ¡§the Devil¡¨ (78, L.9).
The education results Alan in pain.
The issue in the play also reflects the problems in modern family.
---
1.Personal worship with a horse
--Alan¡¦s passion is intertwined with his religion.
--Part of Alan¡¦s mental aberration concerns a bizarre personal worship with a horse¡XEquus¡Xas god.
--Shaffer presents the idea of religion shaping a passionate religion on a young boy¡¦s mind, and perhaps warns the reader about how passion can turn into a religion.

2. Religious/sexual worship
--Alan combines the two chief forces in his life¡Xworship and sex¡Xinto a single figure: the god Equus (51).
--Alan ritualizes his adoration of the horse-god while also experiencing a form of auto-eroticism.
--The act depicts Alan¡¦s amazing form of religious-sexual worship (74).
---
1.the dilemma for the doctor
--to ¡§cure¡¨ or to ¡§kill¡¨: whether to permit Alan his personal form of worship or to destroy his home-made religion in order to return him to society¡¦s conventions.
2. conforming to society
-- Dysart is expected to do his professional duty.
-- Dysart questions himself : cure Alan of his illness and send him to the ¡§Normal¡¨ world; but how can he does it without stripping him of his genuine worship, which is the core of his life? ¡§Passion can be destroyed by a doctor. It cannot be created¡¨ (108).
3.modern society removing man¡¦s capacity of worship
--Modern technology and convenience has weakened man by removing his capacity for worship and his understanding of pain.
--The degeneracy of our modern age: when science has removed all mystery from Nature, our only gods are machines and rationalism (108).
---
1. Dysart sees an individual person as Alan, a person Dysart admires.
--Dysart sees how boring his own life is compared to Alan's.
--The ¡§normal¡¨ world equals devastating manner.
--¡§But that boy has known a passion more ferocious than I felt in any second of my life. And I envy it¡¨, ¡§Without worship you shrink, it¡¦s as brutal as that ¡KI shrank my own life. No one can do it for you¡Kout of my own eternal timidity¡¨ (82).
2. The human need for understanding, compassion, and healing
--Alan has a capacity for worship and passion .
--He suffers from mental illness, but can be healed with love and passion from those around him.

3. To eliminate pain and passion
--Shaffer reveals a main conflicting theme: to eliminate pain, passion and lead a mediocre life, or to permit the disturbing abnormal, yet passionate, behavior that will result in pain.
--In a rapidly developed commercial and mechanized culture, there is little place for ecstasy and worship.
--Our trust in science is as foolish, even more foolish than the pagans¡¦ belief in their gods.
--Being ¡§Normal¡¨ in such a culture loses one's individuality and lives without passion like Dysart¡¦s experience.
---
Study Questions for Discussions
1.Look into the names of the characters: Alan Strang, Dysart and Hesther Salomon. What do you discover?
2. Is it possible for human beings to live without passion or imagination in the modern society?
3. Discuss the foil relationship between Martin Dysart and Alan Strang.
---
http://www.penguinputnam.com/static/rguides/us/equus.html#author
http://worldbook.bigchalk.com/504320.htm
http://www.svwc.com/Peter_%20Shaffer.htm
http://www.penguinputnam.com/static/rguides/us/equus.html
http://endeavor.med.nyu.edu/lit-med/lit-med-db/webdocs/webdescrips/shaffer1051-des-.html
http://www.yaleherald.com/archive/xxv/4.24.98/ae/equus.html
http://www.rice.edu/projects/thresher/issues/88/01.02.02/current/ane/story1.html
http://www.selfpsychology.org/neutrality/reveluation.htm
http://www.acsamman.edu.jo/~hs/2001_2002/english/novel/student3.html
Brewer's Theater: A Phrase and fable Dictionary. 1st U.S ed. New York: Harper Collins. 1994
Plays: International Dictionary of Theatre-1. St. James Press. 1992