Bibliography:

A bibliography of magazine and journal articles about Dylan and his music from 1962 to 1996 at the site created by J. Scale.
An expansive listing of the many interviews that Dylan has given is at Bread Crumb Sins maintained and constructed by Giulio Molfese.




Rolling Thunder 75
---
Essays:

The essay by Benjamin Grillot entitled The Devil's Music: New Pony, the Blues, and Dylan's Crisis of Faith" is found with some other essays about Dylan's songs at The Bob Dylan Critical Corner.
The Bob Dylan Critical Corner contains the following articles by Chris Rollason about Dylan's songs:



Nashville Skyline 69

- 'Boots of Spanish Leather'
- 'When I Paint My Masterpiece'
- 'Dignity'
- 'Man in the Long Black Coat'
- 'Tangled Up In Blue' (part 1)
- 'Tangled Up In Blue' (part 2)
- 'Roving Gambler' (Dylan and Everly Brothers versions)
- 'Lily, Rosemary and the Jack of Hearts'
- 'This Wheel's On Fire'
- Where Are You Tonight?'
- Review of Greil Marcus, 'Invisible Republic' (part 1)
The Bob Dylan Critical Corner also contains the following articles by Nicola Menicacci rticles:



Desolation Row, or The Waste Land's Main Street
The women in Blonde on Blonde
Sad-eyed Lady of the Lowlands: symbolism and poetry
The never-ending tour: a backward look
Caribbean wind: Judaism, Christianity, Dante and a healing ride
One enchanted evening - Dylan in Lucca, July 6th 1998
Baby blue: arrogance, self consciousness, Gaugin in his Tropical paradise
Where are we going, where have we been? Jokerman: Judaism, a (dark?) future and the book of Revelation
Positively 4th Street: the artist's freedom of expression, the 'Royal Albert Hall' concert, Salman Rushdie
and a still unresolved question
'Shooting Star': Gone With the Wind, the way they were

Nuremberg 87
The following essays about Dylan can be found at his official web site.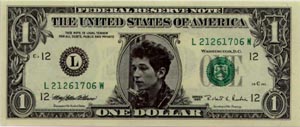 The way Money should look
"The Songs Are My Lexicon", by Alan Jacobs
"Boots" as a Sailing Song and "Maggie's" as a Tune about Agriculture, by Joshua Nelson
" Just Like Tom Thumb's Blues," by Niels J. Dinnesen
"You Only Had to Feel Them," by Peter Stone Brown
"A Young Man With An Old Man's Voice," by Peter Stone Brown
" Nothing Was Delivered," by Steven Levy
" Tracking Bob Dylan," by Peter Coyote
" Never-ending:," by Olof Bjorner
"Hard to find: Bob Dylan Official Rarities," by Alan Fraser
---
**The photos above are from Bob Dylan: Inner Vision.