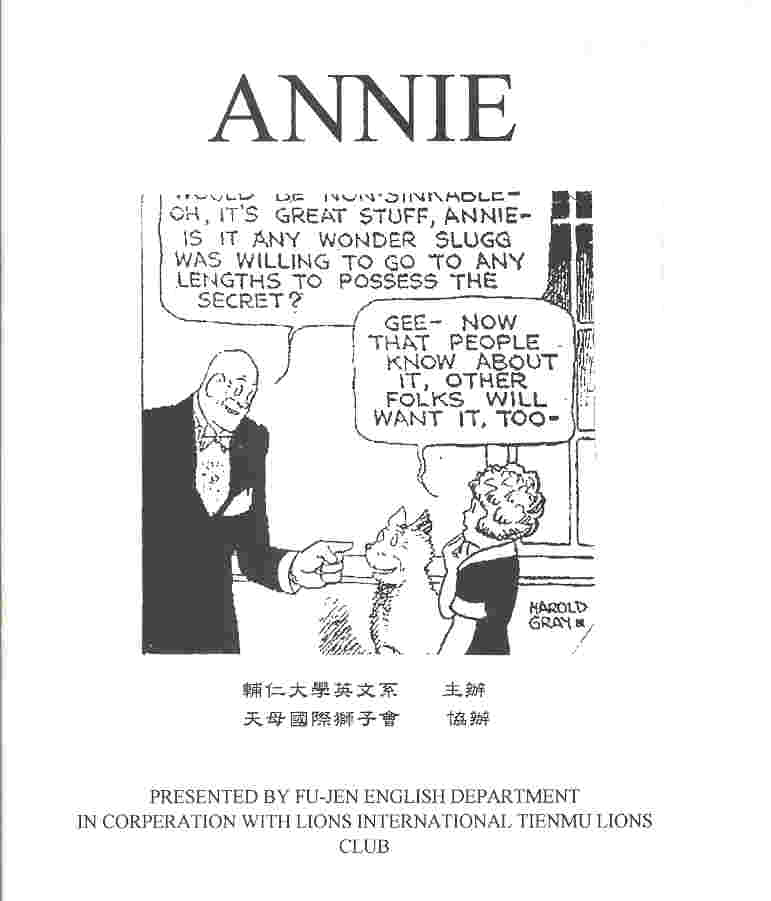 Annie, who does't even know her last name, is an eleven year old foundling. Her parents left her on the steps of New York City's Municipal Orphanage with only half of a silver locket and a note saying that they would come back for her someday. It's a "Hard Knock" life for the orphants because the Supervisor Miss Hannigan makes them clean and scrub for a meal of cold mush every day. Nevertheless, Annie never loses her faith that everything will be better "Tomorrow." Most of all, she believes that her parents love her and that they will be back to get her someday.
At Chritmas, the secretary of the bilionair Oliver Warbucks, Miss Grace Farrell visits the orphanage to invite an orphant to Mr. Warbucks' home for the holiday. Annie wins the chance and wins the hearts of everyone she meets including the President of the United States, Franklin Delano Roosevelt. Even the 1930s Great Depression doesn't defeat her optimism, Annie advises Americans to hold onto their dreams.
When Mr. Warbucks realizes that he needs someone to care for, and decides to adopt Annie, the truth about Annie's parents is revealed. Over nationwide radio program "Hour of "Smiles," Warbucks offers $50.000.00 reward to anyone who can prove they are Annie's mother and father. Attraced by the reward, Miss hannigan and her shyster brother Rooster and his girlfriend Lily scheme to get the money for themselves and make it to "Easy Street." Claiming to be Mr. and Mrs. Mudge, they show up at the Warbucks Mansion with false papers and a fake matching half of the silver locket. The FBI foils their plan by finding out the truth that Annie's parents died many years ago. On Chrismas day, Mr. Warbucks becomes Daddy Warbucks and for Annie and everyone there's "A New Deal for Christmas."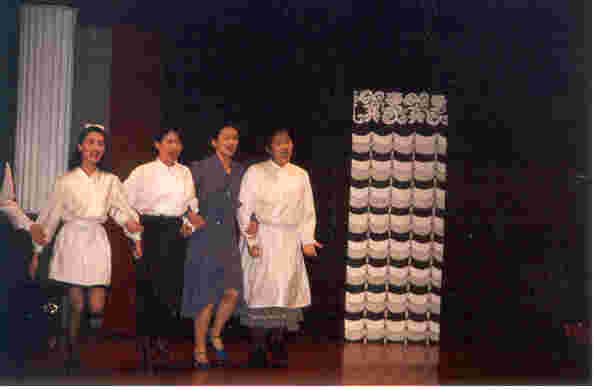 Director's note
This year's senior play ANNIE is a perfect musical for the Christmas season: ANNIE is based on the 1930s Chicago Tribune-New York Daily News Syndicate Newspaper comic strip "Little Orphan Annie" By cartoonist Harold Gray. Gray was a carttonist in touch with the conditions of American during the Great Depression when every fourth person in America was out of a job. He regularly toured the country and talked to people about their views on America. He saw the soup kitchens and "hoovervilles" at the edges of town- squalid camps of the unemployed. And Gray put this knowledge to work in his comic strip. His characters preached a gospel that Gray knew many of his readers wanted to hear: They needed to know that the old values of self-reliance and hard work had not been bankrupted by the economic catastrophes of the time. Gray produced his tantalizing story about a little eleven-year old orphan named "just Annie" for over 40 yearsl. The events in his strip matched the events in the lives of Americans outside the strip- like a diary.
Optimism is needed today as much as it was sixty years ago and Annie's theme "the sun's come out tomorrow," expresses our hope on the eve of the New Year.
Thank you seniors, actors, singers and dancers for your wonderful work and spirit to produce this play.
This Musical ANNIE is written by Thomas Meehan with music by Charles Strouse and Lyrics by Martin Charnin. The English Department is prodicing ANNIE by special permission from International Musical Incorporated, Tokyo.
Lyn Scott