Plot Summary:
Leonard Maltin Summary for Adjuster, The (1991) From Leonard Maltin's Movie & Video Guide.
" Audacious, provocative examination of voyeurism and the power of images. Among the characters are an insurance adjuster (Koteas) who plays peekaboo with the lives of those he deals with professionally and his wife (Khanjian), a censor who secretly tapes the pornographic material she's classifying. Panavision." "A reflection about what makes everyone's life unique, through the story of Noah's family. Noah is an adjuster, having sex with his customers. His wife Hera watches pornographic movies for the Board of Censors. They live with their son Simon and Hera's sister in a show-flat. One day, they meet Bubba, who wants to make a movie in their house.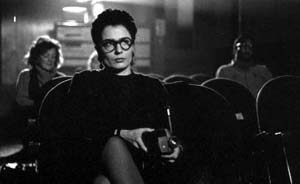 I. The adjuster : "You are in a state of shock, I feel it." To help customers make their claim, and re-build their life, he asks, "How much does this [or that burned item] cost?" To itemize the personal belongings.
Noah & the old couple (Tim & Lorraine) -- "We owe so much to you."

Tim: "You can't go around carrying so much on your shoulders. This is just a job."
Noah: "But people's lives"
Noah & the woman (Arianne, apparently an actress)--Once a lifestyle has been destroyed, how do you re-build it, and why? "The loss is complete. Cannot be itemized."
Noah & the gay couple -- photos
Noah & Hera

with a wart, "a little colony."
her sister, burning the picture

II. Film Censor:
Itemizing the sections with violence or sex.
the supervisor thanks Hera for videotaping the films. He feels "liberated."
"It's for my sister. She likes to know what I do." To make her see what I cut. She is very proud.

III. Bubba and Mimi "They have everything they want, or they have means to get everything they want. But they don't know what they want. So they try different things." Bubba.
What does Mimi want in performing the following sexual fantasies? How dose Bubba help her? And what are his responses?
Stranger on the train
Party conversation about singing in the shower -- For Mimi, it's privacy and entertaining. "For Bubba, it's singing and cleaning with a group, "like a big family" "It must be touching."
Cheer Leader fantasiesa
Boy scotts in a family


Bubba -- interested in "family," and what's behind the front walls of a "house";

--staring at Seta and the boy a lot.
-- decides to stop playing house.
IV. Symbols
fire, shower
motel, model home

the motel's prayer: "May the business that brought you our way here prosper; . . .For we are all travellers. May these days in our motel helpful to your , profitable to our society, joy to those you meet, and to those that love you."
the maid -- "anything we can do to make your stay memorable, just let us know. Anything."

photos -- for the adjuster to "start with"; for Seta to burn
masks
archery and the adjuster's hand

Chinese Articles and Reviews:
Chinese Articles

Reviews

Articles:
""Deja vu/jamais vu" -- The Adjuster and the Hunt for the Image, by Karen Wall" Revue canadienne d'etudes cinematographiques /Canadian Journal of Film Studies Volume 2 Nos. 2-3, 1993 Cinema and Nation (Peter Harcourt, Guest Editor) (Fu Jen: 791.43 R328)