Salman Rushdie's Female Characters
Women As Matriarchs
In both The Moor's Last Sigh and Shame, Rushdie depicts prominent female characters (Epifania da Gama and Bariamma Ryder) as the matriarchs of their families. Although this may seem odd in such a male-dominated society, in southern India matriarchy is actually a common family organization, and women even own property jointly with men (Visram 11). Historical records dating back to early south Indian people frequently include metronyms, perhaps signifying"a lingering influence of the old Dravidian mother right in an otherwise patrilineal ordering of society" (Singh 226).
As Mothers
Due to Hinduism's strong influence in Indian society, a woman's foremost role in life is becoming a mother; moreover, her value depends upon her ability to give birth to sons (Contursi 48). Any power she wields comes from her ability to procreate, not from her dominance over men (Contursi 49). An example of this attitude is evidenced in Shame when Bilqu?s Hyder laments over her inability to produce a male child: "He wanted a hero of a son; I gave him an idiot female instead . . . I must accept it: she is my shame" (Rushdie 101).
Rushdie also toys with the nature of mother-son relationships in Indian and Pakistani society, emphasizing the perversion of their closeness. In Shame, for example, the three Shakil mothers dote over their only son Omar, keeping him"excluded from human society by [their] strange resolve" (Rushdie 29). Furthermore, the stereotypical mother resents her son's new wife for monopolizing his affection and tries to disrupt any opportunities for intimacy in the new marriage (Adler 135). Both Bariamma's nocturnal segregation of the married couples in Shame (Rushdie 71) and Flory Zogoiby's demand for Abraham's firstborn son in The Moor (Rushdie 111) exemplify this unusual attachment.
As Wives
According to J.P. Singh in her book The Indian Woman: Myth and Reality, one of the most notable developments of recent times has been"finding refuge in the age-old Indian wisdom: for the most part ignore your husband. Live your life as if he were not there" (305). Arranged marriages necessitated such sentiment, especially in order to withstand a husband's physical abuse, cruelty, or apathy. Carmen da Gama, in The Moor, privately deals with her husband's secret homosexual liaisons, as does Rani Harappa in the face of Iskander's long absences and sexual disinterest.
Indian and Pakistani wives also become part of their husband's family when they marry; in this arrangement, wives must obey the older women in the family and comply with all their demands (Adler 135). Living under the matriarchal rule of Bariamma Ryder, Rushdie writes that Bilqu?s Ryder"was given more than her fair share of household duties and also slightly more than her fair share of the rough edge of Bariamma's tongue" (Moor 73).
As National Figures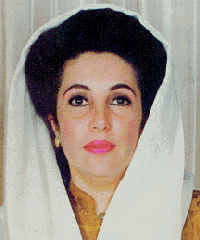 Politicians and Painters
As noted in the book Women and Politics in Islam, which covers the trial of Benazir Bhutto, the Quranic stand on women leaders is in staunch opposition: "'A nation that appoints a woman as its ruler shall never prosper'" says the Bukhari commentary on the Quran (Zakaria 97). Yet a number of women have attained high political positions in both Pakistan and India. Benazir Bhutto, former Prime Minister of Pakistan, is the model for the character Arjumand "the Virgin Ironpants" Harappa in Shame. Although Rushdie portrays her as a woman resentful of her female body-- "it brings a person nothing but babies, pinches, and shame" (107), Bhutto herself told Donna Foote of Newsweek it is "'the people who resent me [that] do so because I am a woman'"(Zakaria 7).
By following her father Zulfikar Ali Bhutto into political leadership, Benazir and her literary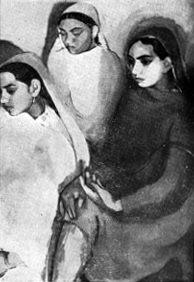 counterpart "the Virgin Ironpants" highlight an interesting trend in South Asia politics: the family connection. According to Rozina Visram in her book Women in India and Pakistan, the reason women have been able to overcome social obstacles and reach high political offices may be family relationships(54). Both the prime minister of Sri Lanka and Bangladesh (Sirimavo Bandaranayake and Khaleda Zia, respectively) came to power after the murders of their husbands, for instance(Visram 55). In The Moor, Rushdie mentions another woman who followed in the footsteps of her father: Indira Gandhi, who was prime minister of India from 1966-77 and 1980-84 before she was assassinated.
The central female character in The Moor's Last Sigh is Aurora Zogoiby, a talented painter who depicts complexity and history of India in her art. She has been linked to the artist Amrita Sher-Gil, who created"a vital, living India 'of dark-bodied, sad-faced, inevitably thin men and women', silent, silhouette-like, with an indefinable pathos" (Rao 36). Like Aurora, Sher-Gil was often misunderstood and unappreciated in her time, although her work was of huge significance to modern Indian painting. (The Painting above is titled "Three Young Girls." For an additional example of her art, visit the Indian stamps web site at http://www.cerc.wvu.edu/ ~rahul/stampsPaintings.html).
Works Cited
Adler, Leonore Loeb, ed. International Handbook on Gender Roles. Westport, Connecticut: Greenwood, 1993.
Feldhaus, Anne. Images of Women in Maharashtrian Literature and Religion. Albany: State University of New York Press, 1996.
Rao, Ramachandra. Modern Indian Painting. Madras: Associated Printers, Ltd., 1953.
Rushdie, Salman. The Moor's Last Sigh. New York: Pantheon, 1995.
---. Shame. New York: Holt, 1983.
Singh, J.P. The Indian Woman: Myth and Reality. New Delhi: Gyan, 1996.
Zakaria, Rafiq. Women and Politics in Islam: The Trial of Benazir Bhutto. New York: New Horizons Press, 1990.
Related Sites
Author: Laura Moyer, Fall 1997
Links within this Site
Postcolonial Studies at Emory